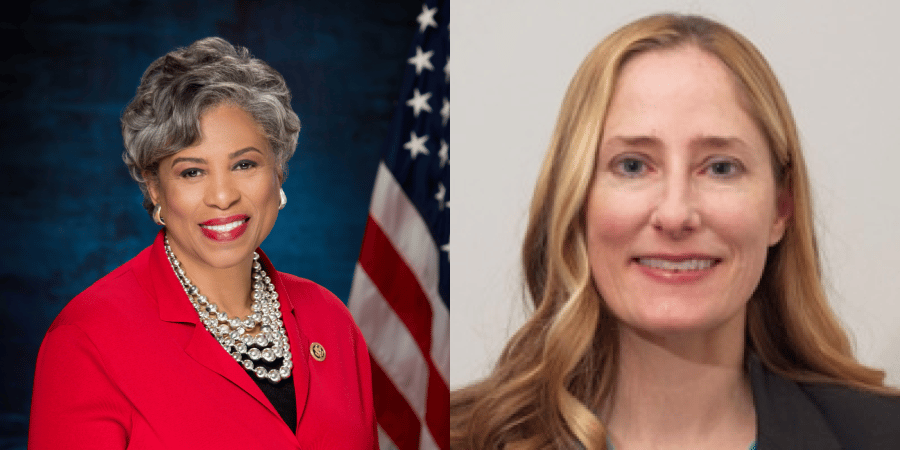 FOR IMMEDIATE RELEASE: 
October 31, 2022
The Save the Post Office Coalition, a network of over 300 public interest groups, calls on President Biden to nominate Rep. Brenda Lawrence and Sarah Anderson to the USPS Board of Governors, using his full authority to appoint two governors who will protect and expand USPS.
"Congresswoman Lawrence and Ms. Anderson are public servants who would bring needed perspectives and expertise to the USPS Board of Governors, at a time when the nation is looking to the board to start asking the tough questions of Louis DeJoy," says Porter McConnell, co-founder of The Save the Post Office Coalition.
The Board as presently constituted has failed to hold Louis DeJoy accountable as he has implemented chaotic delivery directives and advanced his 10-year plan. Adding two new public interest-minded postal board members who are more representative of the postal workforce and the nation at this crucial juncture is an essential step to removing DeJoy and defending what has long been our most respected public institution.
We unreservedly recommend two highly qualified candidates: Rep. Brenda Lawrence and policy expert Sarah Anderson. Prior to 2014 when Rep. Lawrence began serving in Congress representing southeast Michigan, including parts of east Detroit, she had a 30-year career with USPS where she began as a letter carrier and ended as a human resources executive. Sarah Anderson is a policy expert who has written extensively on USPS and economic and financial issues, comes from a family of letter carriers, and has conducted in-depth research on the postal service.
On August 1, the coalition sent a letter to President Biden urging him to appoint nominees with these qualities, signed by 83 state and national organizations. In a grassroots letter campaign organized by 23 groups, over 171,000 voters have urged the President to nominate two protect-and-expand oriented USPS governors. The voting public needs no convincing that instead of corporate and private equity executives, the USPS Board needs governors that possess relevant lived experiences and expertise, and who can better represent the USPS workforce and the nation.
The President has the power to name two progressives to the postal board. Given the current party affiliations of the Postal Board, he is not statutorily prevented from selecting two Democratic nominees to replace Donald Moak and William Zollars. In light of mounting obstructionism from the Homeland Security and Government Affairs Committee's Republican membership in refusing to confirm even moderate Democratic nominees to federal posts, and the urgency of saving the Post Office, these nominees are a compelling case for a potential tie-breaking vote from the Vice President in the evenly divided Senate. The rare freedom the bylaws of the board grant President Biden to choose nominees without partisan constraints should not be taken for granted.
There is recent precedent of a Democratic federal nominee failing to receive Republican support within a congressional committee and still moving forward through the nomination process successfully. Consumer Product Safety Commissioner Mary Boyle's nomination stalled in a tie between Republicans and Democrats in the Senate Committee on Commerce, Science, and Transportation. Leadership called a floor vote to discharge her nomination to the full Senate, where Mary Boyle was then voted into her position on a party line 50-48 vote. Surely a Trump appointee still wreaking havoc on a beloved national institution is cause to repeat this strategy, and put in place a Postal Board of Governors ready to do its job.
USPS and the nation need governors who understand that the USPS has always been and should remain a cherished public service. The postal board urgently needs a majority of governors who will push the USPS to look at its long-term financial health, invest in its workforce, and build a union-built electric postal fleet that will be better for the planet, for mail carriers, and for frontline communities.
The Save the Post Office Coalition came together in the summer of 2020 after Postmaster Louis DeJoy was appointed and began cutting service and slowing down the mail. The coalition's membership includes over 300  organizations that range from national groups like Public Citizen, ACLU, NAACP, LCCHR, Indivisible, MoveOn, Color of Change, National Farmers Union, VoteVets, and RuralOrganizing.org, to state groups like Mainers for Accountable Leadership, Alaska PIRG, and Kentuckians for the Commonwealth. Our proposals to Congress and the Biden administration are here.