public options for banking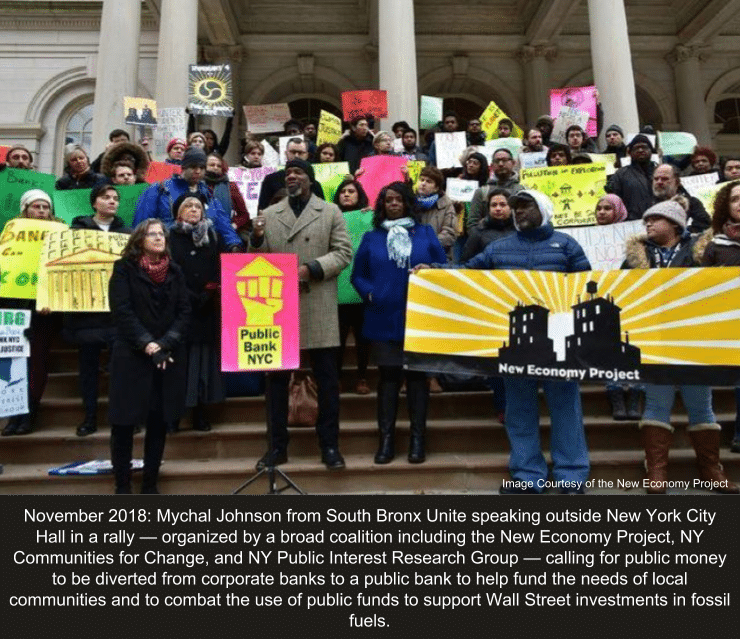 The COVID-19 pandemic is exposing structural flaws in our economy that have made the crisis far worse than it should have been. Rampant inequality, structural racism,  disinvestment in public institutions, and a persistent erosion of worker protections have created a precarious economy that has collapsed under the immediate crisis.
At this moment, Black, white, and brown working people are not only bearing the brunt of the COVID crisis, but are also unable to access life-saving stimulus funds because they lack access to a bank account. Overall, as a result of big banks exiting the business of serving poor people, 1 in 4 U.S. households are now underbanked or unbanked.
Even before the pandemic,  predatory fees had proliferated and bank branches closed across the country, creating more rural and urban "banking deserts" and ATM fees as high as $7.50 in some places. Just as the financial industry targeted Black, Indigenous, people of color and women for their predatory products, it has deprived those same communities of access to traditional banking options.
Over 8 million American households don't have access to basic banking, like a checking account, and 1 in 4 Americans are "underbanked", and have had to use alternatives like check cashers and payday lenders in the last year. The big banks no longer offer free checking, and fees for basic banking have skyrocketed.
Now, nearly 28% of U.S. households rely on fringe and often predatory financial institutions for banking and credit. Fees to payday lenders and check-cashers cost these households an astonishing $173 billion a year. In fact, payday lenders, title lenders, and check cashers extract twice the money the government spends on the SNAP food stamps program from poor households each year. These predatory services are concentrated in low-income neighborhoods and communities of color, stripping additional wealth from those who can least afford it.
It doesn't have to be this way. Some truly exciting public alternatives to Wall Street are being pioneered (and in some cases restored) to ensure that everyone has access to basic banking and our money is used for investments that benefit all of us.
Postal Banking
Instead of threatening to reduce service and raise rates due to COVID-related financial strain, we should be using the people's postal service to deliver essential services and goods to those who the private market doesn't serve. For example, the U.S. Postal Service (USPS) is well placed to provide basic banking services, and to help Americans without bank accounts receive much-needed stimulus funds. In past decades, the USPS offered savings accounts on a significant scale, and postal systems in countries around the world currently provide financial services to more than a billion consumers.
The Postal Service is geographically well-positioned to reach people with little or no access to retail banking. Increasingly, banks are closing branches, particularly in low-income communities. The USPS has more than 33,000 branches serving every urban, suburban, and rural community in the country.
Fifty-nine percent of post offices are in zip codes with either no bank or only one bank.
The USPS is legally required to serve all Americans, regardless of geography, at uniform price and quality. It's not-for-profit, universal mandate contrasts sharply with exorbitantly-priced financial services that target some vulnerable communities and decline to serve others.
The USPS already offers some very limited financial products, including the sale of money orders, international money transfers to nine countries, and cashing of U.S. Treasury checks. The Postmaster General can take action under the Postal Service's existing authority to offer more basic banking services, including:
Low-cost ATMs with free access for Treasury Direct Express cards, providing Social Security benefits at no cost;
Electronic money transfers to other U.S. post offices and more foreign countries
Cashing paychecks; and
Bill payment services, allowing the unbanked to make fast, convenient payments for utilities and other essential services.
Pilot projects could explore additional products.
More comprehensive proposals offer a full suite of basic banking services at your local post office, offered either in partnership with the Treasury Department or the Federal Reserve (see "FedAccounts" below.)
Recent polling from Data for Progress shows the idea is popular, enjoying 74% support among all voters, including 84% among Democrats, 68% from Independents, and 67% from Republicans, echoing repeated annual polls from the Pew Research Center that reveal the USPS to be the most popular government agency with both Republicans and Democrats.
Bills
This bill would establish comprehensive retail bank accounts for regular people through the post office.
This bill would require Federal Reserve member banks to provide pass-through "FedAccounts" and digital dollar wallets to residents and citizens, and to businesses domiciled in the United States, without fees or balance requirements, and would ease distribution of COVID-19 aid payments and refundable child tax credits. In areas without a Federal Reserve member bank nearby, Fed member banks must partner with either a postal retail facility or a community bank to provide services accessible to all.
Learn More
"Postal banking, alcohol delivery could save the U.S. Postal Service, experts say," by Mary Pflum, NBC News, March 27, 2021.
'How the Biden administration can save the postal service: the postal service has to do more than deliver mail if it wants to survive," by Adam Clark Estes, Vox, January 22, 2021.
"Instead of selling off the postal service, why not expand the services it provides to every community in America?", by Porter McConnell, MarketWatch, September 16, 2020.
"Postal Banking: Brought to you by JP Morgan Chase?" by Raul Carrillo, Take on Wall Street blog, August 27, 2020.
"Postal banking is a solution, but to which problem?", by John Heltman, American Banker, August 26, 2020.
"We need a strong postal service after the election, too: Rural residents depend on the mail to deliver medicine, farm supplies, live animals, and more. The postmaster general's cuts will be disastrous long after the votes are counted", by Rob Larew, The Daily Yonder, August 20, 2020.
Voters support postal banking, Data for Progress, July 14, 2020. (Three of 4 voters or 75% support the United States Postal Service offering basic postal services. Postal banking approval was at 84% among Democrats, 68% from Independents, and 67% among Republicans.)
"We can't afford to lose the postal service. Republicans have long tried to kill the U.S.P.S. Now the coronavirus is helping." by Casey Cep, The New Yorker, May 2, 2020.
"Where are financial services located?", by Terri Friedline and Mathieu Despard, New America, February 12, 2019.
"City's poor often have few affordable options for banking, other financial services," by Hayleigh Colombo, Indianapolis Business Journal, June 28, 2019.
"A town with no bank: How Itta Bena, Mississippi, became a banking desert," by Janell Ross, NBC News, June 15, 2019.
"Ex-Wall Street Lawyer Is Behind Plan to Have Post Office Compete With Banks: Mehrsa Baradaran says financial crisis taught her that banking and government are inextricably linked," by Telis Demos, Wall Street Journal, June 1, 2019.
"What is postal banking? Progressive bank system could benefit communities of color," by Daniel Moritz-Rabson, Newsweek, May 30, 2019.
"AOC and Bernie Put Postal Banking Back on the Agenda: What Americans need now is banking that serves people, not Wall Street speculators." by John Nichols, The Nation, May 10, 2019.
"Alexandria Ocasio-Cortez and Bernie Sanders Want to Get Post Offices Into Banking," by Davis Richardson, The Observer, May 9, 2019.
"Postal Banking's Public Benefits," by Mehrsa Baradaran, American Affairs Journal, Fall 2018.
"What is postal banking?" by Alicia Adamczyk, Lifehacker, October 8, 2018.
"Kirsten Gillibrand Unveils Her Ambitious Plan to Turn the Post Office Into a Bank," by Jordan Weissman, Slate, July 30, 2018.
"Postal Banking could become a reality, even without Congress. Here's how," by David Dayen, In These Times, May 2, 2018.
"Kirsten Gillibrand Unveils a Public Option for Banking: The idea would provide a low-cost alternative to payday loans — and it might just save the Postal Service, too." by Daniel Marans, Huffington Post, April 26, 2018.
"Postal Banking is back on the table. Here's why that matters." by Kevin Wack, American Banker, April 26, 2018.
"How the Other Half Banks," by Mehrsa Baradaran, Harvard University Press, October 6, 2015.
"The Road Ahead for Postal Financial Services," by Office of Inspector General, United States Postal Service, May 21, 2015.
"Postal Banking Worked—Let's Bring It Back:  Regulated, federally subsidized banks serve the wealthy and the middle class. A Wild West hodgepodge of unregulated lenders serves everybody else." by Mehrsa Baradaran, The Nation, January 7, 2016.
"A Short History of Postal Banking: As the debate over reinstituting postal banking heats up, we should know we had it. And it worked." by Mehrsa Baradaran, Slate, August 18, 2014.
"Providing Non-Bank Financial Services for the Underserved," by Office of Inspector General, United States Postal Service, January 27, 2014.
"Voters Support Postal Banking" by Senator Kristin Gillibrand, Data for Progress, July 14th, 2020.
The Campaign for Postal Banking
Campaign for Postal Banking is a coalition of consumer, worker, financial reform, economic justice, community, civic, and faith-based organizations building a campaign-based movement to inform and mobilize the public to call on the United States Postal Service to take the necessary steps to restore and expand postal banking at its branches across the country.
The US Mail Not for Sale is a worker-led campaign sponsored by the American Postal Workers Union and the National Association of Letter Carriers. The campaign brings together labor unions, elected officials, member organizations of A Grand Alliance to Save Our Public Postal Service, community supporters and the public to fight plans to sell the public Postal Service to the highest bidder.
"FedAccounts" with USPS Branches

As a result of big banks exiting the business of serving poor people, millions of U.S. households are now underbanked or unbanked. Meanwhile, the Fed offers bank accounts to the banks with 2% interest and payments that clear immediately.
"FedAccounts" can directly offer higher-interest, no-fee accounts with instant payments and complete deposit protection to everyday Americans, with better consumer safeguards than Wall Street. In partnership with post office branches, FedAccounts could provide an equitable and efficient system for distributing stimulus funds and be a solution for unbanked and underbanked communities. The Fed could also work with USPS to broaden its reach — strengthening our postal system at a time when it is facing continued attacks and attempts to privatize a public good.
Bills
This bill would require Federal Reserve member banks to provide digital pass-through "FedAccounts" (i.e., digital dollar wallets) to residents and citizens, and to businesses domiciled in the United States, without fees or balance requirements, and would ease distribution of COVID-19 aid payments. In areas without a Federal Reserve member bank nearby, Fed member banks must partner with postal retail facilities to provide services accessible to all.
Learn More
"For Fairer Relief, Fix the Pipes" by Raul Carrillo, Take on Wall Street, May 6, 2020.
FedAccounts Would Provide Economic Relief—and Inclusion—in the Short and Long Term (Fact Sheet), The Roosevelt Institute, April 22, 2020.
FedAccounts: Digital Dollars, by Morgan Ricks, John Crawford, and Lev Menand, Vanderbilt Law Research Paper 18-33, updated July 16, 2020.
Public Banking
A public bank is owned by people through a city or state and takes deposits, for example from tax revenues. The bank then reinvests its profits back into that community. Whereas investor profits are the top priority for private banks, citizens can exercise oversight over a public bank's practices. Public banks can save municipalities and states money, create jobs and boost the local economy, and lend counter-cyclically to blunt the impact of Wall Street booms and busts. As the Public Banking Institute puts it, public banks "allow communities to declare their independence from risky, expensive, for-profit banks, and keeps taxpayers' money working at home."
Our mission is to inspire, enable, and support Public Bank initiatives, returning control of money and credit to states and communities. Our vision is that a network of publicly-owned banks will be established that create affordable credit and allow communities to declare independence from Wall Street's high-risk, expensive, unaccountable private banking system. Our goal: 5 by 2020! We hope to have five Public Banks well on their way to reality by 2020 and for people everywhere to understand how public banking can benefit them. For a list of public banking campaigns nationwide, click here.
The Public Bank NYC Coalition believes public money should work for the public good, not private gain. We are pressing for the creation of a public bank for NYC, as part of a broader vision for economic and racial justice. We believe a public bank, with a clear mission to serve critical neighborhood needs, will help achieve economic security and shared prosperity for all New Yorkers. Through direct actions, political advocacy and other joint efforts we will make this dream a reality!
California Public Banking Alliance
CPBA is a coalition of public banking activists in California working to create socially and environmentally responsible city and regional public banks. Eight cities and regions, including Los Angeles, San Francisco, Oakland, and Silicon Valley have come together to form the California Public Banking Alliance. All Alliance members are at various stages of starting public banks. The California Democratic Party has also adopted a resolution supporting the creation of state-chartered public banks.
Los Angeles manages more than five billion dollars in annual revenue collected from tax, fee and fine payers. The city maintains bank accounts with between $4B and $12B in cash, and manages up to $45B in investments for pensions and other funds. That money is currently held in accounts at commercial banks, where it earns next to zero interest. We can and must take back this money power for the people of the city.
Bills
Public Banking Act of 2020 (H.R.8721)
Establishes enabling legislation to allow for the creation of state and municipal public banks across the country.
Learn More
"Exclusive: Rashida Tlaib and AOC have a proposal for a fairer, greener financial system — public banking," by Emily Stewart, Vox, October 30, 2020.
"Tlaib, Ocasio-Cortez offer bill to create national public banking system," by Sylvan Lane, The Hill, October 30, 2020.
"Reps. Tlaib and AOC Call For Public Banks to Avoid Fees and Minimum Balance Requirements," by Aila Slisco, Newsweek, October 30, 2020.
"Building the People's Banks: Establishing financial institutions and regulations that work for middle- and low-income Americans is possible. We just have to do it." by David Dayen, The American Prospect, January 16, 2020.
"California just legalized public banking, setting the stage for more affordable housing," by Mario Koran, The Guardian, October 4, 2019.
"Why Public Banks Are Suddenly Popular: There's only one in America—in North Dakota. But a growing movement is pushing for them across America, from L.A. to D.C.," by Sarah Jones, The New Republic, August 10, 2018.
"When Banks Abandoned American Samoa, the Islands Found a Solution Nobody Had Used in a Century," by Andrew Van Dam, The Washington Post, May 9, 2018.
"American Samoa Finally Gets a Public Bank. And U.S. States are Watching," by Rob Blackwell, American Banker, April 30, 2018.
"Public Bank Movement Gains Ground in Cities and States Across the U.S.," by Steve Dubb, Nonprofit Quarterly, January 2, 2018.
"A Public Bank Grows in Brooklyn…and The Bronx…and Queens…And…," by Ali Issa and Ben Hagen, New Economy Project,
Public Investment Bank
We desperately need to invest in public goods like infrastructure and climate change response. We need a public option for investing in our nation's future. The short-term models that Wall Street built fail to invest in necessary infrastructure that's in the public interest, like bringing broadband internet to rural areas, replacing crumbling roads and bridges, and adapting to climate change on an appropriate scale.
America has an investment problem. That was true even before the Coronavirus crisis, and it's more true after the pandemic has damaged the economy and made clear the need for large-scale efforts at rebuilding and adaptation. The institutions that are supposed to manage our investment decisions are failing to translate our national wealth into investment in sustainable, equitable, and environmentally responsible growth and the creation of good jobs for American communities.
Existing models of public support for investment are flawed in many ways. After several decades of neoliberal market ideology, public investment mechanisms often follow the lead of the private sector, effectively passing along public subsidies to private market investors who take the leadership role in shaping the investment. For years, too many public-private partnerships have left private actors in the driver's seat, with risks borne by the public and rewards reserved for private investors.
A public investment authority can help shape markets, catalyze new industries, and raise environmental and labor standards at the leading edge of the economy. There has been a renewed interest in historical examples of public investment leadership like the Reconstruction Finance Corporation (RFC), and academics like Saule Omarova at Cornell and James K. Galbraith at the University of Texas have advocated for new public investment authorities.
A public investment bank must be large, autonomous, and have both a clear mandate and its own resource base with which to pursue public purposes could bring much more fundamental change to Wall Street investment practices.
Experts suggest the following design elements in support of an effective public investment authority:
It should be made proactive and autonomous through an independent equity base.
It should be general purpose, not single purpose
It should be a hub to coordinate strategic investment planning and build capacity
It should be a learning organization
It should be empowered to take a leadership role in addressing economic crises.
Learn More
"Policy Memo: Creating a Public Investment Bank," by Americans for Financial Reform, October 14, 2020.
"White Paper: A National Investment Authority," by Robert C. Hockett and Saule T. Omarova, Cornell Legal Studies Research Paper No. 18-10, February 21, 2018.
"The Macroeconomic Considerations of a Public Investment Strategy," by James K. Galbraith, New America, November 8, 2007.
"Fintech" and what it actually means for the unbanked & underbanked
"New Tech v. New Deal: Fintech as a Systematic Phenomenon," by Saule T. Omarova, Yale Journal of Regulation, November 15th, 2019
"Big tech in finance: opportunities and risks" BIS Annual Economic Report, June 23, 2019.
"Don't buy what Zuckerberg's selling on Libra," Raul Carillo, American Banker, October 22, 2019