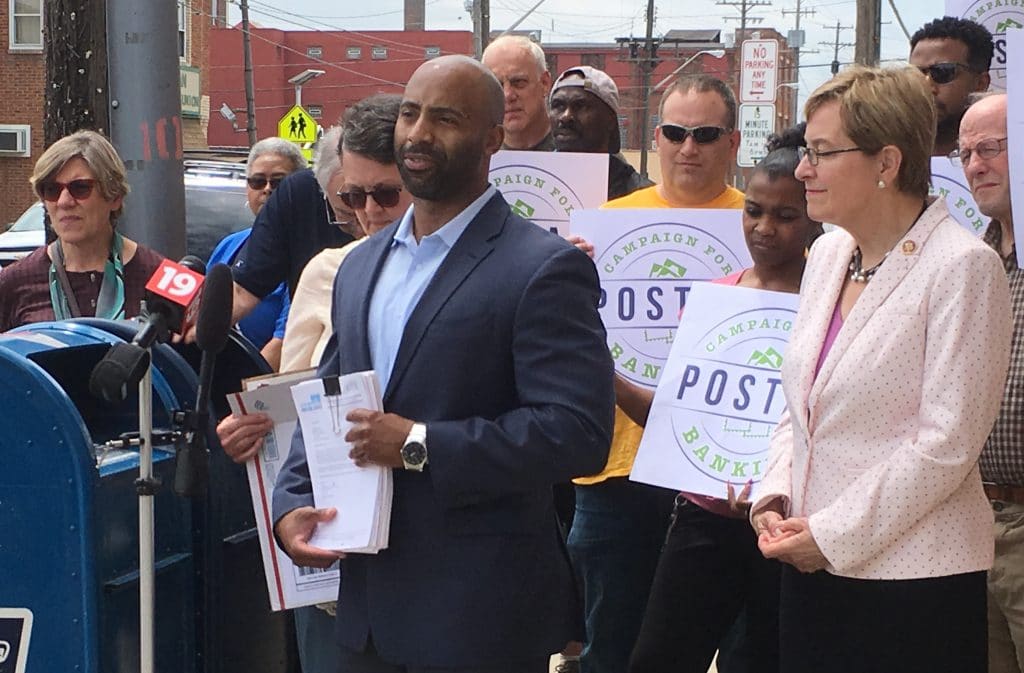 Too many families are unbanked or underbanked. We need a public option for regular people. We all need access to basic affordable financial services: cashing a check, paying a bill, accessing credit.
Enter postal banking.
Instead of threatening to reduce service and raise rates due to COVID-related financial strain, we should be using the people's postal service to deliver essential services and goods to those who the private market doesn't serve. The internet is changing our relationship with the U.S. Mail, and the postal service needs to adapt. For example, the U.S. Postal Service (USPS) is well placed to provide basic banking services, and to help Americans without bank accounts receive much-needed stimulus funds. In past decades, the USPS offered savings accounts on a significant scale, and postal systems in countries around the world currently provide financial services to more than a billion consumers.
The Postal Service is geographically well-positioned to reach people with little or no access to retail banking. Increasingly, banks are closing branches, particularly in low-income communities. The USPS has more than 33,000 branches serving every urban, suburban, and rural community in the country.
Fifty-nine percent of post offices are in zip codes with either no bank or only one bank.
The USPS is legally required to serve all Americans, regardless of geography, at uniform price and quality. It's not-for-profit, universal mandate contrasts sharply with exorbitantly-priced financial services that target some vulnerable communities and decline to serve others.
The USPS already offers some very limited financial products, including the sale of money orders, international money transfers to nine countries, and cashing of U.S. Treasury checks. The Postmaster General can take action under the Postal Service's existing authority to offer more basic banking services, including:
Low-cost ATMs with free access for Treasury Direct Express cards, providing Social Security benefits at no cost;
Electronic money transfers to other U.S. post offices and more foreign countries
Cashing paychecks; and
Bill payment services, allowing the unbanked to make fast, convenient payments for utilities and other essential services.
Pilot projects could explore additional products.
More comprehensive proposals offer a full suite of basic banking services at your local post office, offered either in partnership with the Treasury Department or the Federal Reserve (see "FedAccounts" below.)
Recent polling from Data for Progress shows the idea is popular, enjoying 74% support among all voters, including 84% among Democrats, 68% from Independents, and 67% from Republicans, echoing repeated annual polls from the Pew Research Center that reveal the USPS to be the most popular government agency with both Republicans and Democrats.
Bills
Letter to House Appropriations from Representatives Marcy Kaptur, Bill Pascrell, and Alexandria Ocasio-Cortez requesting the inclusion of

postal

non

–

bank

financial services

i

n the F

iscal

Y

ear

2022

House Financial Services and

General Government Appropriations

Bill.

Letter from 60 organizations in support of Kaptur-Pascrell-Ocasio-Cortez language to pilot non-bank financial services like surcharge-free ATMs, wire transfers, check cashing, and bill payment in the Financial Services and General Government Appropriations Bill for Fiscal Year 2022.
Learn More
"Editorial USPS is flirting with postal banking. That's a good thing." The Boston Globe, October 10, 2021.

"Louis DeJoy is doing something progressives like," by Michelle Cottle, The New York Times, October 8, 2021.
"Postal banking, alcohol delivery could save the U.S. Postal Service, experts say," by Mary Pflum, NBC News, March 27, 2021.
'How the Biden administration can save the postal service: the postal service has to do more than deliver mail if it wants to survive," by Adam Clark Estes, Vox, January 22, 2021.
"Instead of selling off the postal service, why not expand the services it provides to every community in America?", by Porter McConnell, MarketWatch, September 16, 2020.
"Postal Banking: Brought to you by JP Morgan Chase?" by Raul Carrillo, Take on Wall Street blog, August 27, 2020.
"Postal banking is a solution, but to which problem?", by John Heltman, American Banker, August 26, 2020.
"We need a strong postal service after the election, too: Rural residents depend on the mail to deliver medicine, farm supplies, live animals, and more. The postmaster general's cuts will be disastrous long after the votes are counted", by Rob Larew, The Daily Yonder, August 20, 2020.
Voters support postal banking, Data for Progress, July 14, 2020. (Three of 4 voters or 75% support the United States Postal Service offering basic postal services. Postal banking approval was at 84% among Democrats, 68% from Independents, and 67% among Republicans.)
"We can't afford to lose the postal service. Republicans have long tried to kill the U.S.P.S. Now the coronavirus is helping." by Casey Cep, The New Yorker, May 2, 2020.
"Where are financial services located?", by Terri Friedline and Mathieu Despard, New America, February 12, 2019.
"City's poor often have few affordable options for banking, other financial services," by Hayleigh Colombo, Indianapolis Business Journal, June 28, 2019.
"A town with no bank: How Itta Bena, Mississippi, became a banking desert," by Janell Ross, NBC News, June 15, 2019.
"Ex-Wall Street Lawyer Is Behind Plan to Have Post Office Compete With Banks: Mehrsa Baradaran says financial crisis taught her that banking and government are inextricably linked," by Telis Demos, Wall Street Journal, June 1, 2019.
"What is postal banking? Progressive bank system could benefit communities of color," by Daniel Moritz-Rabson, Newsweek, May 30, 2019.
"AOC and Bernie Put Postal Banking Back on the Agenda: What Americans need now is banking that serves people, not Wall Street speculators." by John Nichols, The Nation, May 10, 2019.
"Alexandria Ocasio-Cortez and Bernie Sanders Want to Get Post Offices Into Banking," by Davis Richardson, The Observer, May 9, 2019.
"Postal Banking's Public Benefits," by Mehrsa Baradaran, American Affairs Journal, Fall 2018.
"What is postal banking?" by Alicia Adamczyk, Lifehacker, October 8, 2018.
"Kirsten Gillibrand Unveils Her Ambitious Plan to Turn the Post Office Into a Bank," by Jordan Weissman, Slate, July 30, 2018.
"Postal Banking could become a reality, even without Congress. Here's how," by David Dayen, In These Times, May 2, 2018.
"Kirsten Gillibrand Unveils a Public Option for Banking: The idea would provide a low-cost alternative to payday loans — and it might just save the Postal Service, too." by Daniel Marans, Huffington Post, April 26, 2018.
"Postal Banking is back on the table. Here's why that matters." by Kevin Wack, American Banker, April 26, 2018.
"How the Other Half Banks," by Mehrsa Baradaran, Harvard University Press, October 6, 2015.
"The Road Ahead for Postal Financial Services," by Office of Inspector General, United States Postal Service, May 21, 2015.
"Postal Banking Worked—Let's Bring It Back:  Regulated, federally subsidized banks serve the wealthy and the middle class. A Wild West hodgepodge of unregulated lenders serves everybody else." by Mehrsa Baradaran, The Nation, January 7, 2016.
"A Short History of Postal Banking: As the debate over reinstituting postal banking heats up, we should know we had it. And it worked." by Mehrsa Baradaran, Slate, August 18, 2014.
"Providing Non-Bank Financial Services for the Underserved," by Office of Inspector General, United States Postal Service, January 27, 2014.
"Voters Support Postal Banking" by Senator Kristin Gillibrand, Data for Progress, July 14th, 2020.
The Campaign for Postal Banking
Campaign for Postal Banking is a coalition of consumer, worker, financial reform, economic justice, community, civic, and faith-based organizations building a campaign-based movement to inform and mobilize the public to call on the United States Postal Service to take the necessary steps to restore and expand postal banking at its branches across the country.
The US Mail Not for Sale is a worker-led campaign sponsored by the American Postal Workers Union and the National Association of Letter Carriers. The campaign brings together labor unions, elected officials, member organizations of A Grand Alliance to Save Our Public Postal Service, community supporters and the public to fight plans to sell the public Postal Service to the highest bidder.
"FedAccounts" with USPS Branches

As a result of big banks exiting the business of serving poor people, millions of U.S. households are now underbanked or unbanked. Meanwhile, the Fed offers bank accounts to the commercial banks with 2% interest and payments that clear immediately. "FedAccounts" can directly offer higher-interest, no-fee accounts with instant payments and complete deposit protection to everyday Americans, with better consumer safeguards than Wall Street. In partnership with post office branches, FedAccounts could provide an equitable and efficient system for distributing stimulus funds and be a solution for unbanked and underbanked communities. The Fed could also work with USPS to broaden its reach — strengthening our postal system at a time when it is facing continued attacks and attempts to privatize a public good.
Bills
This bill would require Federal Reserve member banks to provide digital pass-through "FedAccounts" (i.e., digital dollar wallets) to residents and citizens, and to businesses domiciled in the United States, without fees or balance requirements, and would ease distribution of COVID-19 aid payments. In areas without a Federal Reserve member bank nearby, Fed member banks must partner with postal retail facilities to provide services accessible to all.
Learn More
"For Fairer Relief, Fix the Pipes" by Raul Carrillo, Take on Wall Street, May 6, 2020.
FedAccounts Would Provide Economic Relief—and Inclusion—in the Short and Long Term (Fact Sheet), The Roosevelt Institute, April 22, 2020.
FedAccounts: Digital Dollars, by Morgan Ricks, John Crawford, and Lev Menand, Vanderbilt Law Research Paper 18-33, updated July 16, 2020.
Private Sector Initiatives and Their Limitations
"Fintech" and what it actually means for the unbanked & underbanked
"New Tech v. New Deal: Fintech as a Systematic Phenomenon," by Saule T. Omarova, Yale Journal of Regulation, November 15th, 2019.
"Big tech in finance: opportunities and risks" BIS Annual Economic Report, June 23, 2019.
"Don't buy what Zuckerberg's selling on Libra," Raul Carrillo, American Banker, October 22, 2019.
Bank On
Sponsored by the Cities for Financial Empowerment Fund, the Bank On platform supports local coalition and financial institution efforts to connect consumers to safe, affordable bank accounts. The voluntary initiative is currently partnering with 100 of the 10,000 banks and credits unions in the United States. Banks and credit unions have been slow to offer the certified accounts, and the initiative is not well-known. Challenges associated with Bank On include the need for a concerted marketing effort for reaching the unbanked and underbanked, and combatting both targeted marketing from check cashing services and other predatory actors, as well as potential previous negative experiences with the same banks' high fee products.